RECENT DELIVERIES
This High Quality Vans RV-8 Custom Made Clear Cabin Scale Model was handcrafted with...... more...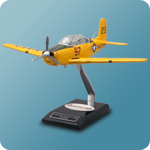 I received my model today and a wanted to tell you what an outstanding job your craftsmen...... more...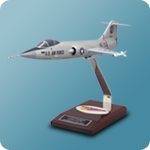 The two model F-104As arrived today in perfect shape; not even a dent in the boxes. They are most excellently...... more...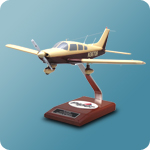 My model of N38708 has arrived and your company did not disappoint me. Having flown in the Navy...... more...
I am writing to let you know that the model of my Beagle Pup (FD10-2305) has been safely delivered by UPS ...... more...
Model Supplier to Cessna Aircraft Co, Bell-Textron, Pilatus Aircraft, Beechcraft, Cirrus Aircraft, NASA
Piaggio America & Italy, Eurocopter USA, Boeing, Lockheed Martin, GECAS, L-3 Communications
ICON Aircraft, Sierra Nevada Corp, Viking Aircraft, Pratt & Whitney, Honeywell, Rolls Royce
Agusta Westland, Virgin America, Quest Aircraft Co, jetAVIVA, Express Jets, Jetcraft
and Hundreds of the World's Leading Aviation Companies in 38 Different Countries
There is Still Time for Christmas - Order Today!
Give the Gift of Creativity this Holiday Season with Our Custom Model Gift Certificate
Order Now and Split Your Gift Certificate into Two Easy Payments
Need a Model Fast? Order from Our Ready to Ship Models
Over 10,000 Models - both Military and Civilian in Stock Ready to Ship Today!
What Makes FDM the Right Choice for You?
Pilot owned and operated for over 20 years, Factory Direct Models (FDM) has been, and is the world's leading manufacturer for custom models shipped directly from our factory in the Philippines. We can manufacture any model any way without restrictions. Each meticulously detailed scale model is custom built using manufacturer blueprints and engineered to the exact specifications. We are not just a model airplane company; we can model just about anything you can imagine. The Factory Direct Models Team has a unique philosophy, our entire team works directly with you – the customer. Our exclusive line of Premium Plus Model planes are a testament to the craftsmanship that is unequalled by any other manufacturer. The attention to extreme detail and unmatched quality is why many of the leading aerospace companies trust FDM to produce timeless treasures that reflect credibly upon their company. Just as their standards are high, so are ours. We are Known and Trusted by some names you may recognize:
EADS
Embraer
Eurocopter
Rolls Royce
Piper Aircraft
Cirrus Aircraft

Lockheed Martin
Raytheon Aircraft
Hawker-Beechcraft
Northrop Grumman
Fairchild Aerospace
Gulfstream Aerospace

Bombardier Aerospace
Honeywell International
Piaggio (America & Italy)
Boeing Aircraft Company

Cessna Aircraft Company
Pratt and Whitney
"Excellence is not the standard by which we operate; it is the standard by which we strive to exceed."

How Do I Order a Custom Model?

Ordering a custom model is simple. Just go to our Custom Model Order Page to choose your model – the hardest part of the process is picking which model you like best. Once you place your order you will receive a thank you e-mail and a link to your web based custom model order form. This user friendly order form will walk you through the entire process of designing your model, uploading your photographs and creating your personalized desktop display stand. Once your model is built we will send you a series of photographs to review and approve before we ship your model. Remember, this is your custom model and it can be made any way you wish. We only charge a 50% deposit to get your model started and the balance when your model is shipped. We offer several different desktop models. Below is a chart of what is included with each:

How it works?

The custom model order process
Custom Model Comparison Chart
| | | | |
| --- | --- | --- | --- |
| Options | | | |
| Approximate Size | 9" | 17" | 17" |
| Any Aircraft | Yes | Yes | Yes |
| Custom Paint Scheme | Yes | Yes | Yes |
| Display Stand | Yes | Yes | Yes |
| Antennas & Fine Details | No | Yes | Yes |
| Premium Stand Logo | No | Yes | Yes |
| Inscription Plaque | No | Yes | Yes |
| Upgraded Black Stand | No | Yes* | Yes |
| Painted Windows | Yes | Yes | Clear Windows |
| Interior Details** | No | No | Yes |
| 1/2 Clear Side | No | No | No |
| Removable Top* | No | No | Yes* |
| Time to Build | 6-8 Weeks | 8-10 Weeks | 12-14 Weeks |
* Optional at Additional Cost
** Helicopters Additional
Visit our Premium Custom Model Gallery and our Premium Plus Model Gallery or Order Your Model now.
Do you Have Any Models in Stock Ready to Ship?
We offer an extensive collection of Ready to Ship model planes, Ships, Wall Plaques, Tail Flashes, Automobiles and Made to Order models from all eras. Our product line includes many of the world's most prolific propeller powered planes, jet powered planes, helicopters, civilian and business aircraft, military airplanes, space craft, and commercial airliners. Our Ready to Ship models usually arrive to you within a week of ordering and are shipped insured with a full 100% Money Back Guarantee.
This Month's Featured Models from Our Elite Collector's Series: