RECENT DELIVERIES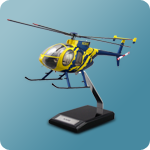 This High Quality Hughes MD-500 Custom Made Clear Cabin Scale Model was handcrafted with...... more...
This High Quality Vans RV-8 Custom Made Clear Cabin Scale Model was handcrafted with...... more...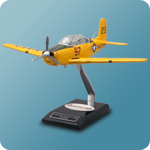 I received my model today and a wanted to tell you what an outstanding job your craftsmen...... more...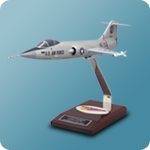 The two model F-104As arrived today in perfect shape; not even a dent in the boxes. They are most excellently...... more...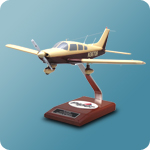 My model of N38708 has arrived and your company did not disappoint me. Having flown in the Navy...... more...
Cessna T-50 Bobcat Model Airplane
Factory Direct Models, the world leading manufacturer of Model Aircraft, brings to you this Cessna T-50 Bobcat Airplane. This Cessna T-50 Bobcat Model Airplane was hand crafted using the finest Philippine Mahogany and sealed to last for generations. Working with our blueprints and library of reference material as well as the Customer's photographs, Factory Direct Models master artisans created this famous airplane into an amazing one of a kind detailed display model.

This Cessna T-50 Bobcat Airplane Model comes with a detachable stand a Personalized inscription plaque and a laminated Cessna logo that adds beauty to this collectible masterpiece.

Cessna T-50 Bobcat History:

First flown in 1939, the Cessna T-50 was that company's bid for a successful five-seat commercial transport typical of many other aircraft built in the late thirties. While the wings and tail unit were wood, the fuselage was a welded steel-tube design with fabric over wooden skinning. A low-wing cantilever monoplane, it featured a unique retractable tailwheel and wing trailing-edge flaps, both electrically actuated.

The need for a training plane to help pilots convert from single to twin-engine aircraft enabled Cessna to sell 550 aircraft for this purpose to Canada (Under the designation Crane), followed by 33 T-50's to the U.S. Army Air Corps under the designation AT-8. In 1942, the USAAF felt the T-50s would work well as light personnel transports and for liaison/communication. 1,287 AT-17 Bobcats (later designated as UC-78s) were delivered and served in all theaters of war. Not to be outdone, the U.S. Navy in 1942-43 purchased 67 planes, which they designated JRC-1s, to ferry pilots between delivery ports and transport navy pilots to new duty stations. The T-50 served in these various roles for several years after the war. Over two dozen Bobcats still roam the skies of the USA, Canada, and Australia/New Zealand.