RECENT DELIVERIES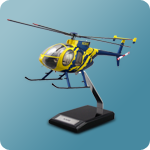 This High Quality Hughes MD-500 Custom Made Clear Cabin Scale Model was handcrafted with...... more...
This High Quality Vans RV-8 Custom Made Clear Cabin Scale Model was handcrafted with...... more...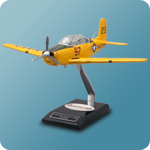 I received my model today and a wanted to tell you what an outstanding job your craftsmen...... more...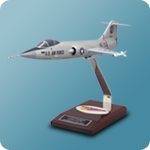 The two model F-104As arrived today in perfect shape; not even a dent in the boxes. They are most excellently...... more...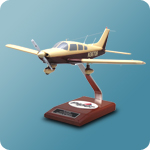 My model of N38708 has arrived and your company did not disappoint me. Having flown in the Navy...... more...
Cessna T-337H Super Sky Master Model Airplane
Factory Direct Models, the world leading manufacturer of Model Aircraft, brings to you this Cessna T-337H Super Sky Master Airplane. This Cessna T-337H Super Sky Master Model Airplane was hand crafted using the finest Philippine Mahogany and sealed to last for generations. Working with our blueprints and library of reference material as well as the Customer's photographs, Factory Direct Models master artisans created this famous airplane into an amazing one of a kind detailed display model.

This Cessna T-337H Super Sky Master Airplane Model comes with a detachable stand a Personalized inscription plaque and a laminated Cessna logo that adds beauty to this collectible masterpiece.

Cessna T-337H Super Sky Master History:

The Cessna T337B (1967) Turbo Super Skymaster with two Continental turbocharged fuel injected 210 HP engines which boosted service ceiling to 33,000 feet, cruise speed to 233 mph, and range to 1640 milesymaster is a United States twin-engine civil utility aircraft built in a push-pull configuration. Instead of on its wings, its engines are mounted in the nose and rear of its pod-style fuselage. Twin booms extend aft of the wings to the vertical stabilizers, with the rear engine between them. The horizontal stabilizer is aft of the pusher propeller, mounted between and connecting the two booms[1] The combined tractor and pusher engines produce 'centerline' thrust and a unique sound.

The first Skymaster model was the 336. It had fixed landing gear and first flew on 28 February 1961.[It went into production in May 1963, and 195 were produced through mid 1964.

In February 1965 Cessna introduced the model 337 Super Skymaster. The model was larger, had more powerful engines, retractable landing gear, and a dorsal air scoop for the rear engine ("Super" was subsequently dropped from the name). In 1966 the turbocharged T337 was introduced, and in 1973 the pressurized P337G entered production.

Cessna built 2993 Skymasters of all variants, including 513 military O-2 versions. Cessna production ended in 1982 but Skymaster production continued with Reims in France with the FTB337 STOL and the military FTMA Milirole. Reims produced a total of 94 Skymasters.

After a 20-year hiatus, the Skymaster's centerline thrust, pod and twin-boom aircraft configuration has been revived in a completely new design, the Adam A500.