RECENT DELIVERIES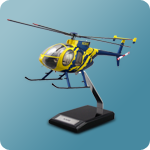 This High Quality Hughes MD-500 Custom Made Clear Cabin Scale Model was handcrafted with...... more...
This High Quality Vans RV-8 Custom Made Clear Cabin Scale Model was handcrafted with...... more...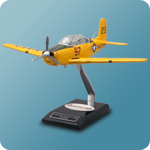 I received my model today and a wanted to tell you what an outstanding job your craftsmen...... more...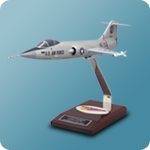 The two model F-104As arrived today in perfect shape; not even a dent in the boxes. They are most excellently...... more...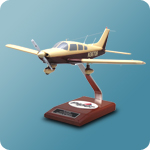 My model of N38708 has arrived and your company did not disappoint me. Having flown in the Navy...... more...
Beechcraft 350 King Air Model Airplane
Factory Direct Model's hand crafted this customized Beechcraft 350 King Air Model Airplane using the finest Philippine Mahogany and sealed it to last for generations. Working from our collection of blueprints, reference materials and the Customer's Photographs, our very own skilled master artisans created this Beechcraft 350 King Air Airplane into an amazing highly unique detailed desktop replica.

This Custom Made Beechcraft 350 King Air Airplane Model comes with a detachable stand, a personalized inscriptions plaque and a laminated Beechcraft Logo that adds beauty to this work of art.

Beechcraft 350 King Air History :

The Beechcraft King Air Series of aircraft are without a question the most popular and longest running production of a Turbo Prop Twin engine aircraft ever. The updated version of the popular King air 200 became the King Air 300. From the King Air 300 an improved version came shortly after known as the King Air 350.

The major change between the King Air 200 and the King Air 300 was an increase of engine power. Although both aircraft utilized the proven design of the Pratt and Whitney Canada PT6A engines several version of that engine with different Shaft Horse Power Ratings were offered. The King Air 200 Series utilized the 40 Series of Engines. The King Air 300 increased the power with the PT6A-60A. Other changes between the 200 and the 300 were redesigned engine cowls that produced less drag. Minor changes included extended wing leading edges and an increase of Max Take Off Weight.

After the King Air 300 came The King Air 350. The fuselage was lengthened by 2 feet 10 inches and winglets were added to the out board wing. This was the first time Beechcraft opted for the use of winglets on any of their aircraft. Winglets now seem to be a standard on all new production aircraft. The first flight of the 350 occurred in 1988 and the aircraft remains in production since 1989. The aircraft is also used by the U.S. Military in various roles although the major role is for V.I.P. use. The `Super' prefix was dropped from the King Air name in 1996.