RECENT DELIVERIES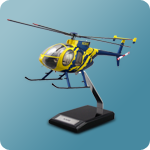 This High Quality Hughes MD-500 Custom Made Clear Cabin Scale Model was handcrafted with...... more...
This High Quality Vans RV-8 Custom Made Clear Cabin Scale Model was handcrafted with...... more...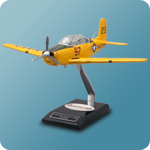 I received my model today and a wanted to tell you what an outstanding job your craftsmen...... more...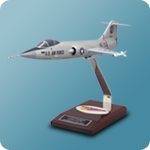 The two model F-104As arrived today in perfect shape; not even a dent in the boxes. They are most excellently...... more...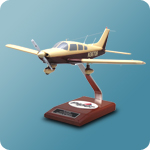 My model of N38708 has arrived and your company did not disappoint me. Having flown in the Navy...... more...
Grumman TBM-3 Avenger Model Airplane
Introducing Factory Direct Model's custom made Grumman TBM-3 Avenger Model Airplane. This Grumman TBM-3 Avenger Model was hand crafted using the finest Philippine Mahogany and sealed to last for generations. From our collection of blueprints, reference materials and customer's photographs Factory Direct Models master artisans hand crafted this famous Grumman TBM-3 Avenger into an amazingly detailed Display Model.

This Grumman TBM-3 Avenger Airplane Model comes with a customized detachable stand, a personalized inscriptions plaque and a laminated United States Navy logo that adds magnificence into this detailed Display Model.

Grumman TBM-3 Avenger History:

The Grumman TBF Avenger (designated as TBM by General Motors) was a torpedo bomber developed initially for the United States Navy and Marine Corps and was also used by a large number of air arms around the world. Grumman's first torpedo bomber was the heaviest single-engine plane of WWII and it was the first to feature a new wing-folding mechanism intended to maximize storage space on an aircraft carrier.

On the afternoon December 7, 1941, Grumman held a ceremony to open a new manufacturing plant and display the new TBF to the public. Ironically, on that day, the Imperial Japanese Navy attacked Pearl Harbor, as Grumman soon found out. The plant was quickly sealed off to ward against possible enemy action. By June 1942, a shipment of more than 100 planes was sent to the Navy.

The Grumman TBF Avenger entered service in 1942 and first saw action during the Battle of Midway. On August 24, 1942, the next major naval battle occurred at the Eastern Solomons. With only the carriers USS Saratoga (CV-3) and Enterprise, the 24 TBFs present were able to sink the Japanese aircraft carrier Ryujo and claim one dive bomber, at the cost of seven planes.

After hundreds of the original TBF-1 models were built, the TBF-1C began production. By 1943, Grumman began to slowly phase out production of the Avenger to produce F6F Hellcat fighters, and the Eastern Aircraft Division of General Motors took over, with these aircraft being designated TBM. Starting in mid-1944, the TBM-3 began production with a more powerful powerplant and wing hardpoints for drop tanks and rockets. The dash-3 was the most numerous of the Avengers with about 4,600 produced. However, most of the Avengers in service were dash-1s until near the end of the war in 1945.TBF/TBMs sank the two Japanese "super battleships", the Musashi and the Yamato. The Avengers played a major role in the American victory during World War II.