RECENT DELIVERIES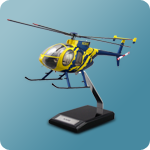 This High Quality Hughes MD-500 Custom Made Clear Cabin Scale Model was handcrafted with...... more...
This High Quality Vans RV-8 Custom Made Clear Cabin Scale Model was handcrafted with...... more...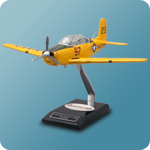 I received my model today and a wanted to tell you what an outstanding job your craftsmen...... more...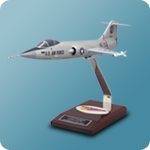 The two model F-104As arrived today in perfect shape; not even a dent in the boxes. They are most excellently...... more...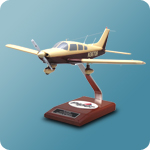 My model of N38708 has arrived and your company did not disappoint me. Having flown in the Navy...... more...
Martin WB-57F Scale Model (Free Shipping)

Home > READY TO SHIP MODELS > Military Aircraft > Jet Powered Models > Martin WB-57F Scale Model (Free Shipping)

Item#: CB57FT

MSRP Price: $201.95

Factory Direct Price: $149.95

Wing Span: 20"
Length: 11.25"

Manufacturer: General Dynamics

---
Martin WB-57F Scale Model (Free Shipping)
FREE SHIPPING within the U.S. (additional rates apply for other destinations)
Introducing Factory Direct Models Martin WB-57F Night Intruder Model Airplane, This Model Airplane Replica was hand crafted with absolute precision using the finest Philippine Mahogany. Working from our library of blueprints, reference materials and their photographs, Factory Direct Models master artisans recreated this historic military warplane into an incredibly desktop display model.
Please note that the stand shown in this photograph may vary or change with the model you receive.
We also make Custom Made Airplane Models to meet your specifications with the capability to include your company logo and inscribed inscription plaque to make your model a personalized work of art. If you would like personalized Custom Model Model Please Call (866) 580-8727.
Martin WB-57F Night Intruder History:
The Martin B-57 Canberra was a twin jet engine, light bomber and reconnaissance aircraft (photographic, electronics, and meteorological) which entered service in the 1950s. Originally based on the British English Electric Canberra, the US-built B-57 had evolved into several unique variants.
At the outbreak of the Korean War in 1950, the United States Air Force found itself in dire need of an all-weather interdiction aircraft. The piston-engined Douglas A-26 Invaders were limited to daytime and fair weather operations and were in short supply. Thus, on 16 September 1950 the USAF issued a request for a jet-powered bomber with a top speed of 630 mph (1,020 km/h), ceiling of 40,000 feet (12,190 m), and range of 1,150 miles (1,850 km). Full all-weather capability and secondary reconnaissance role had to be included in the design. To expedite the process, only projects based on existing aircraft were considered. The contenders included the Martin XB-51, and the North American B-45 Tornado and AJ Savage. In an extremely rare move, foreign aircraft including the Canadian Avro Canada CF-100 Canuck and the British English Electric Canberra were also given consideration. The AJ and B-45 were quickly dismissed because their outdated designs had limited growth potential. The CF-100 was too small and lacked sufficient range. The XB-51, while very promising and much faster, had limited maneuverability, a small weapons bay, and limited range and endurance.
The Weather Reconnaissance vesion of the WRB-57Fs used for high altitude atmospheric sampling in support of nuclear weapon testing and weather research. Two WB-57F aircraft were transferred to NASA and are the only WB-57s still flying in the world today.They are used for atmospheric research and for monitoring Space Shuttle takeoff and landing.