RECENT DELIVERIES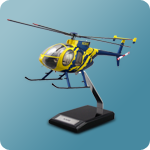 This High Quality Hughes MD-500 Custom Made Clear Cabin Scale Model was handcrafted with...... more...
This High Quality Vans RV-8 Custom Made Clear Cabin Scale Model was handcrafted with...... more...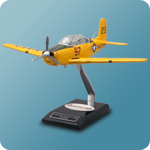 I received my model today and a wanted to tell you what an outstanding job your craftsmen...... more...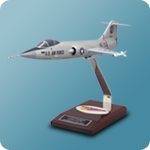 The two model F-104As arrived today in perfect shape; not even a dent in the boxes. They are most excellently...... more...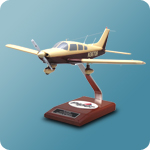 My model of N38708 has arrived and your company did not disappoint me. Having flown in the Navy...... more...
Beechcraft C-90 "King Air" Model Airplane (Free Shipping)

Home > READY TO SHIP MODELS > Elite Collector's Series > Beechcraft C-90 "King Air" Model Airplane (Free Shipping)

Item#: SCPB90-3

MSRP Price: $229.95

Factory Direct Price: $165.95

Wing Span: 15.08"
Length: 10.65"

Manufacturer: Beechcraft

---
Order Now and Receive a FREE Personalized Inscription Plaque and FREE Shipping
Our exclusive 1:40 scale, Beech C90 (Hawker Beechcraft), King Air was meticulously hand crafted to replicate the actual aircraft. Our collector series Beech C-90 model includes such intricate details as leading edge de-ice boots, prop de-ice, VHF antennas, GPS fairings, wind screen wipers, pitot tubes electronic bay airflow vents on both sides of the nose radome, propeller manufacturer logo's and numerous other details not found on our competitors models. Each of our Beechcraft C90 aircraft models are hand crafted from select, kiln-dried Philippine Mahogany. Each model is hand-carved to scale and hand-painted, utilizing exact aircraft manufacturer scale line drawings, images and other technical resources.
This top of the line, collector series model incorporates a chemically engraved, hand painted, BEECHCRAFT manufacturer logo on a Philippines Mahogany display stand. We can personalize the display stand inscription plaque with the text of your choice ABSOLUTELY FREE. Just type what you would like your inscription plaque to read and we will include with your model- again this is ABSOLUTELY FREE!
Personalize this Model for a Client, a Friend or for Yourself:
3 lines for text - just like on the custom order page. Just fill in the fields (Line 1, Line 2 and Line 3) above with maximum of 15 characters per line.
FDM Specialty is Building Custom Model Aircraft. To view the numerous Custom made C90 King Air Models commissioned by other clients Click Here. If you would like to have your own Hawker Beechcraft C90 King Air, or ANY Other Model Custom Built Completely to YOUR Specifications Click Here. Perfect for Gifts and Awards.
For personalized service, call a customer service representative (866) 580-8727 or email at: sales@factorydirectmodels.com
Beechcraft King Air C90 Information:
The Beechcraft King Air family of aircraft are among the most popular and recognized twin-turboprop aircraft in the World today. King Airs are produced by the Beech Aircraft Corporation (now Beechcraft Division of Hawker Beechcraft). The King Air line is comprised of two families; the Model 90 and 100 series are both know as King Airs. The 200 and 300 series were originally marketed as Super King Airs. "Super" being dropped by Beechcraft in 1996 (although is commonly used to differentiate the 200 and 300 series King Airs from the 90 series).
The King Air was the first aircraft in its class. The King air has been in continuous production since 1964 and has outsold all of it's turboprop competitors combined. However, it now faces competion from light jet aircraft such as the Cessna Citation "Mustang" as well as the newer twin engine Piaggio P180 Avanti and single-engine Piper Malibu Meridian and Socata TBM 850.
Nearly 2,900 civilian and military variations of the Model 90 King Air have been delivered which makes it one of the most popular cabin class models in the World. Nineteen nations have purchased and flown Model 90s for Military applications. The Model 90 King Air is a favorite of corporate flight departments, charter operators, flying doctors, law enforcement and individual operators with an overall safety record, second to none in its field. It is likely that the King Air has far exceeded what John T. Calhoun and Beechcraft envisioned might be possible in 1964, almost 50 years ago. John T. Calhoun was Project Engineer fo the King Air and was a major contributor to its development.
Developmental History of the Model 90 Series:
In 1961 the Model 90 King Air was conceived as the Model 120.
In May of 1963, Beechcraft began flight test of the Proof-of-concept Model 87 (a modified Queen Air with Pratt & Whitney Canada PT6A-6 engines). By July 14, Beech announced the new type and began accepting orders for the Model 90 "King Air" with deliveries to commence in the fall of 1964.
In 1964, after 10 months of test flying, the Model 87 was delivered to the United States Army with a military designation of NU-8F.
In January of 1964, the first definitive prototype, designated Model 65-90, flew for the first time. By the end of October 1965, the first production aircraft was delivered and 152 aircraft had been ordered. Seven Model 65-90 aircraft were built before the end of 1965.
In 1966, after 112 Model 65-90s were completed, the PT6A-6 engines were replaced with PT6A-20's and the production switched to the Model 65-A90. A testament to its popularity, 206 Model 65-A90s were built in less than two years, when the production switched to the Model B90. The first B90s began rolling off the production line in 1968. Military versions were also built during these years include the 65-A90-1, 65-A90-2, 65-A90-3 and 65-A90-4, all unpressurized and based on the Model 87. These were produced for the US Army and were designated U-21's. A total of 162 of these were built from 1967 to 1971.
184 B90 models were produced before the Model C90 was introduced in 1971. The Model C90 had an increased wingspan, maximum Take-Off Weight (MTOW) and PT6A-20A engines. A hugely similar Model E90 was introduced in 1972. The E90 was fitted with PT6A-28 engines. The Model C90 and E90 were produced simultaneously. Continued refinement of the Model 90 series resulted in the Model F90 and Model F90-1. Both F models utilized the T-tail of the Model 200 King Air mated to the fuselage and wings for the E90, with PT6A-135 engines, driving four bladed propellers.
In January 1978, the F90 prototype flew and between 1979 and 1983, 203 production versions were produced. The F90 was subsequently superseded by the F90-1. A prototype Model G90 was fitted with Garrett Air Research TPE-331 engines, to test the models feasibility, but the model was never placed into production.
In 1982 the Model C90-1 entered production and featured the PT6A-21 engines. The following year the F90-1 was placed into production with redesigned engine cowlings and PT6A-135A engines, only 33 were built when production was terminated in 1985. The C90-1 was followed by the C90A which featured the improved engine cowlings from the F90-1. The C90A model was in production until 1992 by which time 235 were built.
At the Oshkosh Air Show in July 2005, Beechcraft introduced the C90GT. The C90GT was fitted with PT6A-135As. The engine change improved performance and was highly competitive with the new generation for Very light jets over short tow medium distances while providing a larger, more luxurious cabin. Deliveries of the C90GT began in 2006.
At the 2007 European Business Aviation Convention & Exhibition in Geneva, Beechcraft announced the updated version designated the C90GTi. The C90GTi featured the Rockwell Collins Proline 21 avionics package previously only available on the B200 and B300 King Airs. Deliveries of the C90GTi commenced in 2008 and 125 were added to the fleet before being superseded by the new C90GTx in 2010. Hawker Beechcraft's current C90GTx has increased MTOW and winglets, beginning with airframe LJ-1978.
Military King Air Model 90 Versions:
The U.S. Military has used King Air 90s for VIP transport and training, with designations including the U.S. NavyT-44A Pegasus, the U.S. Air Force VC-6A and the U.S. Army U-21 Ute. The U.S. Navy used the T-44A Pegasus, (designated H90 by Beechcraft) to train United States Navy, Marine Corp, Coast Guard and Air Force pilots to fly multi-engine aircraft. In 2006, the Navy upgraded the T-44A fleet with modernized avionics and re-designated them T-44C's. The U.S. Air Force acquired one Model B90 King Air, with a military designation of VC-6A and used as "Air Force One" when used to transport President Johnson. It is on display with other presidential aircraft at the National Museum of the U.S. Air Force at Wright Patterson Air Force Base near Dayton, Ohio. The U-21 Ute used by the U.S. Army was the most common version.
The Japan Maritime Self-Defense Force (JMSDF) has operated C90 and C90A King Airs since 1973. The JMSDF has given them various designations and consist of 34 TC-90 trainers, 5 LC-90 transports and one UC-90 used for photographic aerial survey. The TC-90's and the UC-90 are assigned to the 202 Kyoiku Kokutai(Training Squadron) and the LC-90's are attached to Lockheed P-3 Kokutai (Squadrons) and NAMC YS-11 squadrons as liaison aircraft.