RECENT DELIVERIES
This High Quality Vans RV-8 Custom Made Clear Cabin Scale Model was handcrafted with...... more...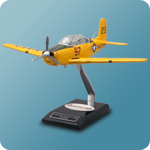 I received my model today and a wanted to tell you what an outstanding job your craftsmen...... more...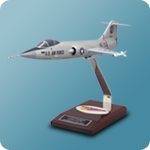 The two model F-104As arrived today in perfect shape; not even a dent in the boxes. They are most excellently...... more...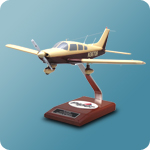 My model of N38708 has arrived and your company did not disappoint me. Having flown in the Navy...... more...
I am writing to let you know that the model of my Beagle Pup (FD10-2305) has been safely delivered by UPS ...... more...
Lockheed C-130R Arctic VXE-6 Model
LC-130s are specially modified with a wheel/ski landing gear configuration for operation in Arctic and Antarctic regions. Originally built for the U.S. Navy, most of these C-130 variants are being handed over to the New York Air National Guard's 109th Airlift Wing. Antarctic Development Squadron 6, more commonly known as VXE-6, supported Operation Deep Freeze for over 44 years!

The LC-130's predecessor, the C-130D, was first introduced in 1956. During 1957, the U.S. Air Force conducted extensive testing of the wheel/ski configured aircraft (#55-0021) which could be operated from both conventional runways and snow/ice covered surfaces in Arctic regions and for resupply missions to units along the Distant Early Warning (DEW) line. The tests proved the aircraft could successfully do what had already been done by other wheel/ski configured aircraft, like the C-123J.

The wheel/ski configured C-130Ds were only built for the U.S. Air Force. They were, and still are, the largest aircraft to be equipped with skis. The modification involved installation of a nose and two main skis fitted around conventional landing gear. The nose ski measured 10 feet (3m) long by 6 feet (1.8m) wide, while the main skis were 20 feet (6m) long by 6 feet (1.8m) wide. The undersides were coated with Teflon to reduce surface friction and resist adhesion to ice and snow. Each ski weighed approximately 2,000 pounds (907kg).

Your model will be made exactly as shown in the photographs. If you would like to change this model in any other way, please visit the Custom Model section of our website to commission a personalized model to be built.