RECENT DELIVERIES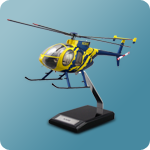 This High Quality Hughes MD-500 Custom Made Clear Cabin Scale Model was handcrafted with...... more...
This High Quality Vans RV-8 Custom Made Clear Cabin Scale Model was handcrafted with...... more...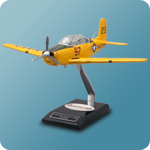 I received my model today and a wanted to tell you what an outstanding job your craftsmen...... more...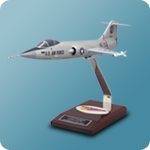 The two model F-104As arrived today in perfect shape; not even a dent in the boxes. They are most excellently...... more...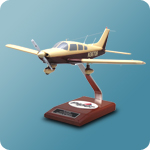 My model of N38708 has arrived and your company did not disappoint me. Having flown in the Navy...... more...
Gulfstream V Scale Model (Free Shipping)

Home > READY TO SHIP MODELS > General Aviation Models > Gulfstream V Scale Model (Free Shipping)

Item#: KG

MSRP Price: $231.95

Factory Direct Price: $165.96

Wing Span: 17.33"
Length: 17.75"

Manufacturer: Gulfstream Aerospace

---
Gulfstream V Scale Model (Free Shipping)
FREE SHIPPING within the U.S. (additional rates apply for other destinations)
This Ready to Ship Gulfstream V Wooden Airplane was handcrafted with absolute precision using the finest Philippine Mahogany and was sealed to last for generations. Working from our library of blueprints, reference materials and their exact photographs, Factory Direct Models master artisans recreated this Gulfstream V into an amazingly detailed display model airplane replica that you can display at your home, office, museum, tradeshow or any place you desire.
This Gulfstream V mahogany airplane model is a perfect gift for Aviation Enthusiasts, Pilot, Aviator or people who took part in developing this airplane.
Please note that the stand shown in this photograph may vary or change with the model you receive.
Your model will be made exactly as shown in the photographs. If you would like to change this model in any other way, please visit Our Custom Model Gallery section of our website to commission a personalized model to be built.
Gulfstream V History:
The Gulfstream V is a business jet aircraft produced by Gulfstream Aerospace. It is also used by the US military under the designation C-37A. The G500 and G550 are improved versions which are currently in production. The Gulfstream G550 was formerly known as the Gulfstream V SP (G-V SP).
The 89th Airlift Wing's 99th Airlift Squadron, Andrews Air Force Base, Md., operates four C-37As. The 6th Air Mobility Wing's 310th Airlift Squadron, MacDill Air Force Base, Florida operates three C-37As. The 15th Airlift Wing's 65th Airlift Squadron, Hickam Air Force Base, Hawaii operates one C-37A. The 86th Airlift Wing's 309th Airlift Squadron, Chievres Air Base, Belgium has one C-37A.
On March 11, 2005, Gulfstream delivered an ultra-long-range GV to the National Center for Atmospheric Research (NCAR). The aircraft – known as the High-performance, Instrumented Airborne Platform for Environmental Research (HIAPER) – is being used by environmental and atmospheric scientists from both public and private research facilities. The GV was chosen by NCAR for its exceptionally high-cruising altitude, long range, endurance, payload, reliability, and low operating costs, as well as worldwide product support. The aircraft is based in Boulder, Colorado. The HIAPER Gulfstream V is currently being modified to accept wing/pylon mounted instrumentation.
The Federal Bureau of Investigation's ownership of a G-V seems to be authenticated by recent budget requests. Its use has drawn controversy where FBI director Robert Mueller is said to be using the jet 25% of the time, when the jet was originally requisitioned for use for transporting those suspected of terrorism.