RECENT DELIVERIES
This High Quality Vans RV-8 Custom Made Clear Cabin Scale Model was handcrafted with...... more...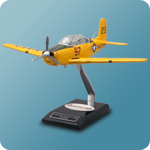 I received my model today and a wanted to tell you what an outstanding job your craftsmen...... more...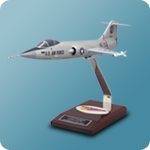 The two model F-104As arrived today in perfect shape; not even a dent in the boxes. They are most excellently...... more...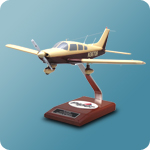 My model of N38708 has arrived and your company did not disappoint me. Having flown in the Navy...... more...
I am writing to let you know that the model of my Beagle Pup (FD10-2305) has been safely delivered by UPS ...... more...
USS Halsey (DLG / CG 23)
This Custom Made USS Halsey (DLG / CG 23) Ship Model was crafted with absolute precision. Working from our extensive collection of blueprints and their photographs, our master artisans recreated this Battle Ship into an incredibly detailed Desktop Replica.This USS Halsey (DLG / CG 23)ship model was hand crafted from the finest Philippine Mahogany and sealed to last for generations. A fully customized display stand with their choice of logo and personalized inscription plaque added the finishing touch to this masterpiece.

FDM is proud to know that this model will be displayed with pride in someone's home or office.

USS Halsey (DLG / CG 23) History

USS HALSEY (DLG 23) was launched a guided missile frigate on 15 January 1962 at San Francisco Naval Shipyard. The ship's sponsors were Mrs. Margaret Denham and Miss Jane Halsey, granddaughters of the late Fleet Admiral. On 20 July 1963, USS HALSEY (DLG 23) was commissioned into service. Captain H. H. Anderson, USN, assumed command. The ceremonies included a eulogy by Fleet Admiral Chester W. Nimitz, USN, on Fleet Admiral Halsey's illustrious career.

HALSEY departed San Francisco on 25 November 1963 for Dabob Bay and Carr Island to conduct ASW system alignment tests and acoustical noise surveys until 7 December. She arrived at her home port of San Diego on 11 December 1963.

HALSEY was assigned to Destroyer Squadron 7, Destroyer Division 71 on 13 December 1963, and participated in a special sea power demonstration for the Secretary of the Navy, acting as screen commander from 15-18 December 1963. She conducted her weapons qualification trials from 15 January to 14 February 1964, and fired her first missiles on the Pacific Missile Range on 10 February 1964.

After a shakedown cruise from 16 March to 1 May, she returned to the San Francisco Naval Shipyard on 15 May 1964; and concluded her post-shakedown on 17 July 1964. During her first years of active service, HALSEY experimented with a unique system of internal organization, combining all the aspects of the weapons systems and CIC under a combat officer; and separate hull and communications administration departments.

In 1966, HALSEY was assigned to Destroyer Squadron 7, Destroyer Division 71, in the Pacific Fleet. On 2 July, she left San Diego for Subic Bay, Philippines. By August, she was conducting air-sea rescue and ASW operations in the South China Sea. During this period, HALSEY rescued some 16 airmen in two cruises in the Gulf of Tonkin. On 5 December, the frigate departed Yokosuka, Japan, for the West Coast, arriving San Diego 21 December 1966.