RECENT DELIVERIES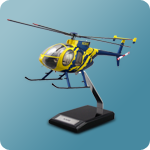 This High Quality Hughes MD-500 Custom Made Clear Cabin Scale Model was handcrafted with...... more...
This High Quality Vans RV-8 Custom Made Clear Cabin Scale Model was handcrafted with...... more...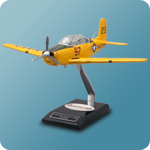 I received my model today and a wanted to tell you what an outstanding job your craftsmen...... more...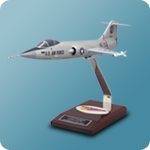 The two model F-104As arrived today in perfect shape; not even a dent in the boxes. They are most excellently...... more...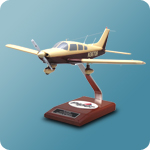 My model of N38708 has arrived and your company did not disappoint me. Having flown in the Navy...... more...
Beechcraft SNB-5 Model Airplane
Factory Direct Model's hand crafted this customized Beechcraft SNB-5 Model Airplane using the finest Philippine Mahogany and sealed it to last for generations. Working from our collection of blueprints, reference materials and the Customer's Photographs, our very own skilled master artisans created this Beechcraft SNB-5 Airplane into an amazing highly unique detailed desktop replica.

This Custom Made Beechcraft SNB-5 Airplane Model comes with a detachable stand, a personalized inscriptions plaque and a laminated Beechcraft Logo that adds beauty to this work of art.

Beechcraft SNB-5 History:

The Model 18 was one of Beech Aircraft's most successful and longest running production designs. It was in production from 1937 until November 26, 1969. Some 18 commercial variants were built. The Model 18 was designed for private and civil aviation, combining low operating costs, cabin comfort, and safety features comparable to those found on commercial airliners. The aircraft was designed to operate from small airfields and have a high degree of reliability and ease of repair. The first flight took place on January 15, 1937. Beech employees dubbed the Model 18 the Twin Beech. The design faced stiff competition from Lockheed's Electra Junior in the late 1930's, but after the United States' entry into World War II production soared in order to meet the needs of the US military for trainers and utility transports. All branches of service flew versions of the Twin Beech, and this continued when the US Air Force came into being in 1947.

Of the nearly 10,000 Model 18s built, over 5,250 were for the US military and were used to train navigators (AT-7/SNB-2), gunners and bombardiers (AT-11/SNB-1), and pilots, and for transporting cargo and personnel (C-45/SNB-5/JRB) and for aerial photography and mapping (F-2). Over 90 percent of US navigators and bombardiers in World War II trained in versions of the Twin Beech. Navigator, Kansan, and Expeditor were all names used for versions of military Model 18s, but the most commonly used name was Twin Beech. The US military flew a dozen basic variants, with nearly 40 sub-variants. The Army Air Force and Navy (including Marines and Coast Guard) had different designations for the Twin Beech. In September 1962, all surviving military Model 18s became C-45s with different letter suffixes for different versions. The US Coast Guard stopped flying their JRBs in 1958. The US Air Force retired their C-45s in 1963. The US Navy/Marines retired theirs in 1972, and the US Army ended operations of the C-45 in 1976.