RECENT DELIVERIES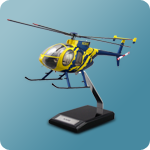 This High Quality Hughes MD-500 Custom Made Clear Cabin Scale Model was handcrafted with...... more...
This High Quality Vans RV-8 Custom Made Clear Cabin Scale Model was handcrafted with...... more...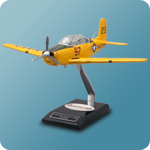 I received my model today and a wanted to tell you what an outstanding job your craftsmen...... more...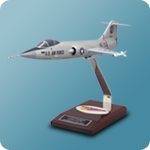 The two model F-104As arrived today in perfect shape; not even a dent in the boxes. They are most excellently...... more...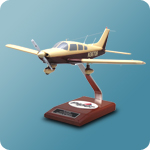 My model of N38708 has arrived and your company did not disappoint me. Having flown in the Navy...... more...
Velocity XL-RG Model Airplane
Factory Direct Model's hand crafted this customized Velocity XL-RG Model Airplane using the finest Philippine Mahogany and sealed it to last for generations. Working from our collection of blueprints, reference materials and the Customer's Photographs, our very own skilled master artisans created this Velocity XL-RG Airplane into an amazing highly unique detailed desktop replica.

This Custom Made Velocity XL-RG Airplane Model comes with a detachable stand, a personalized inscriptions plaque and a laminated Velocity Logo that adds beauty to this work of art.

Velocity XL-RG History:

Velocity Aircraft Inc., was formed in 1984 by Danny Maher in Sebastian, Florida, to develop and market a new 4-seat canard aircraft, based upon the successful Long-EZ design. After the prototype flew in July 1985, several kits were sold and close contact was maintained with initial builders to get valuable feedback in areas where the design could be (and subsequently was) improved. The Velocity received rave reviews by all of the flying press, and the 173 "LW" (long wing) model went on to further enhance the Velocity design.

One of Danny Maher's first kits was purchased by Duane Swing and his son Scott Swing, of Dayton, Ohio. After building their first Velocity, the Swings decided to make a retractable gear option available for the kit. In doing so, the Swings had developed a close relationship with Dan Maher. Thus, when Dan decided to sell the business, he first called the Swings. The Swings liked the proven and stable Velocity design so much that they bought the company assets from Dan in 1992 and moved their families to Sebastian.

The Swings immediately established a marketing program to promote the original standard Velocity, while taking the business much further. New avenues were explored to enhance the existing Velocity designs, ranging from the addition of pre-molded kit parts to the exciting gull-wing door, introduced in 1995. In 1997, Velocity once again innovated by creating the big "XL" model, based upon over a decade of proven aircraft performance, reliablity, and safety. Always keeping on the leading edge, Velocity introduced the Velocity XL-5 (nicknamed the "Dash 5") is an option to the Velocity XL kit. In addition to all the "extras" of the Velocity XL model, the Dash 5 includes an extra seat (it can accommodate 3 children on the rear bench seat), extra baggage space, extra packing versatility, extra passenger comfort, extra useful load, extra engine power, extra braking power, and extra rudder control.