RECENT DELIVERIES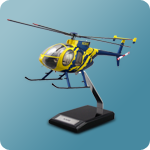 This High Quality Hughes MD-500 Custom Made Clear Cabin Scale Model was handcrafted with...... more...
This High Quality Vans RV-8 Custom Made Clear Cabin Scale Model was handcrafted with...... more...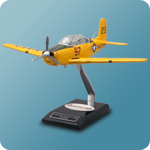 I received my model today and a wanted to tell you what an outstanding job your craftsmen...... more...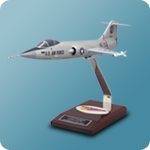 The two model F-104As arrived today in perfect shape; not even a dent in the boxes. They are most excellently...... more...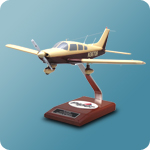 My model of N38708 has arrived and your company did not disappoint me. Having flown in the Navy...... more...
Alon Inc. Aircoupe A-2 Model Airplane
Factory Direct Model's hand crafted this customized Alon Inc. Aircoupe A-2 Model Airplane using the finest Philippine Mahogany and sealed it to last for generations. Working from our collection of blueprints, reference materials and the Customer's Photographs, our very own skilled master artisans created this Alon Inc. Aircoupe A-2 Airplane into an amazing highly unique detailed desktop replica.

This Custom Made Alon Inc. Aircoupe A-2 Airplane Model comes with a detachable stand, a personalized inscriptions plaque and a laminated Ercoupe Logo that adds beauty to this work of art.

Alon Inc. Aircoupe A-2 History:

Alon, Incorporated was started by John Allen (whose first two letters from his last name formed the AL) and Lee O. Higdon (whose last two letters from his last name formed the ON).

The two were part of a group of executives who retired from aircraft manufacturer Beechcraft to found their own company. They had previously negotiated with Forney Aircraft to purchase production of the Aircoupe so that Beechcraft could use the design as an introductory trainer. The deal was canceled by Olive Ann Beech, instead deciding to concentrate resources on the Beechcraft Musketeer. This decision caused the executives to leave Beechcraft. They set up shop in McPherson, Kansas where they purchased the type certificate for the Aircoupe from the City of Carlsbad, New Mexico on March 16, 1964.

"A new company formed by former Beechcraft executives Allen and Higdon, who have purchased all assets, jigs, tools, and engineering of the program from the city of Carlsbad NM. They expect to deliver the first of 30-50 Aircoupes to be built next year for about $8,000."

The Alon A-2 and A-2A Aircoupes were much improved upon models of the original Ercoupe which differed from it in several ways. The Alons featured a sliding canopy, a more powerful 90 hp (up from 75) Continental engine, separate bucket seats and a much improved instrument panel.

Over the period of production (1964-1967) Alon produced 245 A2s, with peak production of 137 in 1966. The last 25 A2s produced by Alon had spring steel landing gear in the place oleo struts.

Another aircraft produced by Alon (although only a single example was ever built) was the A4. The A4 was a low wing 4 place monoplane of aluminum construction powered by a single 150hp Lycoming engine. By accounts, it was a promising aircraft, but it did not go into production before Alon closed.

Production of the A2 ceased in September of 1967, and on October 9, 1967, Alon was purchased by, and became a division of the Mooney Airplane Company of Kerrville, Texas.